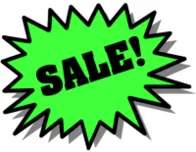 We will constantly have special discounts on our products that typically run from the 1st-15th & 16th-31st. These include: Orthotics, Pillows, Hot/Cold Packs, Chair Massagers, Nutritional Supplements, Power Balance Bands, & Traumeel Pain Relief.
AUGUST - EVERYTHING** willl be 10% OFF
Check out our great list of supplements and vitamins! We have children and adult varieties. They are all 10% OFF! This includes our GREENS FIRST products as well as TRAUMEEL.
Need an ice pack or heat pack? We have small, medium and large! And they are all on special for 10% OFF ALL month long!
Massage Chairs? Water pillows? Also on sale for 10% OFF
** excludes orthotics and chiropractic care.