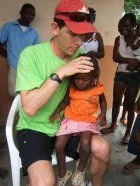 In April 2006 and again in May of 2009 Dr. Ken Heinrich was privileged to be part of a small group of dedicated chiropractors who volunteered their time and expertise to travel to Santo Domingo in the Dominican Republic. Thousands upon thousands of people gained the benefits of the chiropractic over the course of the week long mission.
The most recent mission had a professional videographer travel with the doctors to create a 30 minute documentary to raise awareness of the need for chiropractic in the 3rd world. This should be available on this site for viewing within 1-2 months.
Photos of the missions will be added to this site in the near future as well. Please check back to see some amazing pictures of the people of the Dominican!!