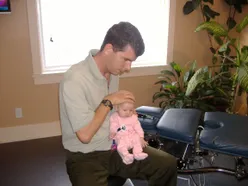 Why I became a Chiropractor...
"I used to suffer terribly as a child from debilitating migraine headaches. I remember they started at about age 5. I would wake up crying usually between 5-6 am with terrible pain behind my left eye. My parents took me to several medical doctors, including specialists. My diagnosis was migraines - the treatment was prescription drugs.
Until the drugs kicked in my Mom would bring me hot compresses to drape over my face and sing songs to me to try to ease the pain. Now having 2 young children of my own I understand the frustrations my parents had of not being able to help their child in pain.
I remember being 6 years old taking full adult doses of dangerous strong prescription pain medication to ease the pain. Eventually the drugs would knock me out until I would wake up a couple of hours later to vomit profusely. The headache would be gone but my head would feel fuzzy and my stomach would be unsettled for the rest of the day.
Fast forward to my first year at the University of British Columbia, still suffering from migraines, and meeting my future brother-in-law, a chiropractor (we now have 3 chiropractors in the family!). He recommended I consult a chiropractor for my migraines. I was so taken with the amazing results of chiropractic and the holistic approach to healing that chiropractic embodies that it literally changed my course in life. I continued with my studies at UBC, however, I now had a new focus. I wanted to become a chiropractor. 18 years after that first adjustment I can tell you I am pretty much migraine- free!!!"
Education
After beginning his studies at the University of British Columbia, Dr. Ken furthered his studies by entering the 4 year Chiropractic program at the Canadian Memorial Chiropractic College in Toronto. He earned his Doctorate of Chiropractic graduating in 1995, Summa Cum Laude with Clinic Honours, and was awarded the Gilbert H Young Memorial Scholarship for graduating academically top in his class.
Following graduation from CMCC both Dr. Ken and his wife Dr. Marnie traveled to Australia for a year providing locum holiday relief for doctors. Invaluable experience was gained and they both felt confident returning to the Comox Valley where they co-founded Courtenay Family Chiropractic in early 1997.
Dr. Ken is constantly raising the bar of his personal and professional growth by regularly attending conferences across North America to keep him current on the latest techniques and technologies in chiropractic. His post graduate education hours typically exceed 5 times that of the annual requirements for licensure in British Columbia.
Chiropractic Missions around the world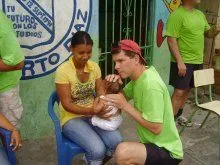 In April 2006 Dr. Ken and 6 other chiropractors volunteered their time and expertise to partake in a Chiropractic Mission to bring chiropractic to Santo Domingo, a city of 3 million, and the capital of the Dominican Republic. The week was spent in the worst slums of the city (Dr. Ken and his adjusting partner had an armed guard for their first 2 days!) providing free care to those that basically have no access to any form of healthcare. They were so well received that often people would line up for 2 or more hours just to be adjusted! Adjusting 300-500 people per day allowed the doctors to remove subluxations from approximately 10,000 people in just 5 days! To see the hardships of day to day life in a third world country was a life changing experience for all doctors involved.
Dr. Ken once again volunteered for another Chiropractic Mission in May 2009 and traveled back to Santo Domingo to provide free chiropractic care to those suffering needlessly. He and 5 other dedicated chiropractors adjusted 12,000+ in their 5 days of work!! A professional videographer accompanied the doctors with the goal of creating a television-ready documentary (hopefully accessible through our website in the near future!).
Family, Sports & Interests
Married to a wonderful woman, Dr. Marnie Grant, Dr. Ken has 2 beautiful daughters that take up much of his time when away from the clinic. Whether it be family camping trips, boat trips to Tree Island, coaching the girls' soccer teams or wandering the beach looking for "treasures", family time is always precious.
Sports have always played a significant role in Dr. Ken's life from a very early age. He received his 1st hockey stick at age 2 and hockey became an instant passion. After graduating from high school at age 16, Dr. Ken packed his bags and played a season in the Swiss Men's League. A successful season lead to a league championship after which Dr. Ken returned to Canada to begin his university studies. Hockey still takes up winter evenings as he has now "graduated" to the rank of old-timers!!!
Other interests include a lifelong passion for flyfishing, summer sports such as softball, along with gardening and woodworking.