New Product!!!
We have just brought into our clinic the popular ChiroFlow Premium Water Filled Pillow.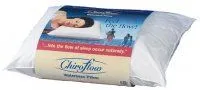 Clinically proven to improve sleep quality
Hypoallergenic
Fall asleep faster and wake up less during the night
Rejuvenates skin and reverses the negative effects of fatigue
A direct link to ChiroFlow for more specific information, filling instructions (with video), Top 10 Sleep Tips (with video) as well as testimonials can be found here.
Both Dr. Ken & Dr. Marnie use these pillows with great satisfaction (and a good night's sleep)!
$64.95 + tax
Testimonial
I recently purchased a ChiroFlow Premium Waterbase Pillow and I am very impressed with it. Finally I can enjoy a restful sleep, free of neck pain. I am impressed that the pillow is easily adjustable to my preference by the amount of water I put in it. The pillow takes a regular pillow case. Due to the heavy hypoallergenic Dacron Fibre that surrounds the pillow, the pillow is not too hot or cold to rest my weary head on. A great feature of this pillow is that it is heavier than other pillows so it stays in one place on my bed. This one does not end up on the floor! Without water in it, I will be able to take my ChiroFlow pillow with me on vacation, filling it to just the right level when I get to my destination. As long as I have my water pillow with me I will sleep well.
Carla H. ~ March 2012